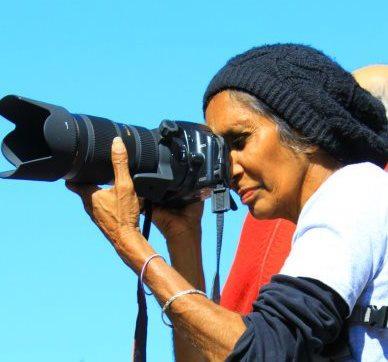 Aunty Barbara McGrady heads up the Guwaali Photography Section.
Aunty Barbara McGrady is a Kamilaroi woman who was born in Mungindi, North/Western NSW on the QLD border, who moved to Sydney in the early 1970s.
Barbara's particular interest in photography began at an early age when she was given a camera as a teenager.
Barbara sees social documentation through the lens.
Her interests lie in contemporary urban issues that affect Indigenous Australia, human rights, politics and sports.
Barbara's many diverse photographic assignments range from sports, community events & awards to protest rallies such as Wikileaks, Occupy Sydney, and The Northern Territory Anti-Intervention.
Barbara's work has been published in a variety of publications and websites for NAIDOC, National Indigenous Times, Reconciliation Australia, Aboriginal Legal Service and Gadigal Information.
Barbara works as a freelance photographer and is an active member of her community in Glebe, she donates significant time for pro bono assignments for the inner city community, including the suburbs but exclusive to Glebe, Waterloo and Redfern.
For the past three years, Barbara has been photographing the biggest gathering of Aboriginal people annually each year, the "NSW Koori Rugby League Knockout", this has been in conjunction with historian, Heidi Norman, who has written extensively on the subject of Rugby League.
Obviously Australia sees itself as a sporting nation and prides itself on its sporting achievements, Indigenous Australians have been an integral part of this country's identity and history.
Like many Aboriginal Australians, Barbara is proud that the first Australian Cricket team to tour England was Aboriginal in 1868, and encourages all Australians to embrace these facts.
Barbara has a Bachelor of Arts Degree from Sydney University and has also studied Sociology.
The sociological aspect is reflected in her photographic work.
Barbara worked on the Barangaroo project where she recorded many of Sydney's events and history
Barbara's work has been chosen to exhibit at the prestigious 2013 "Head On" Photo Festival, Australia's largest photo festival and the world's second largest festival.
This is how she sees her world!
This is how she makes sense of it!
Copyright © 2015 Guwaali - All Rights Reserved