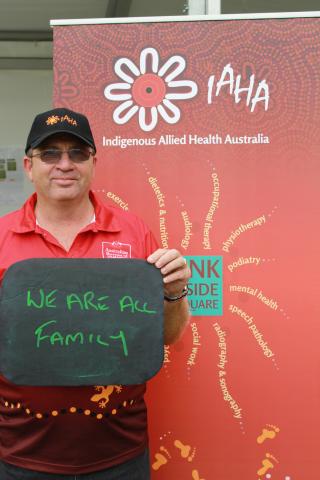 Geoff is a proud Wiradjuri man and throughout his life he has been exposed to many issues, which impact Indigenous peoples and their communities.
He has a strong appreciation of culture which enables him to be fully conversant with the various cultural community structures that exist throughout Aboriginal communities, on such issues as cultural values, communication channels, extended family networks, skin groups and most importantly the Elder structure.
Geoff's skills and experience extend to an understanding and appreciation of Torres Strait Islander people and their culture, and similarities in parallel with Aboriginal culture and spirituality.
He has developed and regularly demonstrates his effective communication styles and techniques in negotiating with Aboriginal and Torres Strait Islander peoples, through the various positions he has held, where travelling to communities all around Australia, was just the normal part of his routine.
Geoff says he has been lucky to travel to many remote, rural and urban communities around Australia, over the last several years to discuss and connect communities, with service providers in the areas of governance, health, well-being and financial awareness.
He was born in Sydney and raised at Kempsey on the NSW north coast where he completed his early education.
In 1979, he joined the Australian Army for 15 Years, where he did a tour of Butterworth in Malaysia, with his role being to guard the RAAF base.
Geoff engaged the Malaysian community appreciating and valued the views of different cultures.
After the Army, Geoff has spent most of his adult working life in government and community organisations in Newcastle, Canberra and Brisbane.
Geoff has had extensive go vernance experience with communities, he has been a Director of Ngambril Local Aboriginal Land Council and Chairperson of SEARMS (South Eastern Aboriginal Regional Management Services Aboriginal Corporation) at Batemans Bay in NSW.
He is a Director and Treasurer on Show Me The Way.
Geoff is proud to be the first qualified Aboriginal facilitator with the Australian Institute of Company Directors.
Copyright © 2014 Guwaali - All Rights Reserved